​WarmLine provides support services to families with infants and toddlers who are eligible for Early Start services in Sacramento, Placer, Yolo, El Dorado, Nevada and Alpine counties. 
WHO'S ELIGIBLE FOR EARLY START?
Children ages birth to 3 years old with a developmental delay in one or more areas such as physical, cognitive, communication, social/emotional and self help. For more information go to the California Department of Developmental Services Early Start/Early Intervention website.
EARLY START SERVICES:
​ Are designed to meet the individual needs of each infant or toddler and needs of the family,
 Are provided in "natural environments",
 Are provided to families by qualified personnel,
 Include transition to appropriate services at three years of age.
A natural environment is a variety of settings where children live, learn and play. ​
Early Start services may include: Assistive technology devices/services; Audiology services; Some health services; Nursing services; Occupational therapy; Physical therapy; Psychological services; Service coordination; Special instruction; Social work services; Transportation; Speech & language services; Vision services; Medical services for diagnosis & evaluation; and Family training, counseling, home visits.
TRANSITION AT AGE 3
At age 3 your child will have completed Early Start. What happens after Early Start will vary based on your child's needs and how you want your child to spend their preschool years. Our guide, Turning Three Years Old, will give you the information you need to prepare for the transition and learn how to participate in the process. Warmline staff are also available for individual consultations should you want additional assistance. To request a consultation call 916-455-9500 or email warmline@warmlinefrc.org.
EARLY START RESOURCES​
More Resources for Children Birth to Preschool (page not migrated)
WARMLINE'S EARLY START PUBLICATIONS​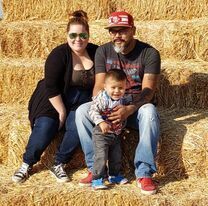 (Early Start Resource Guide - Spanish)

(Turning 3 Years Old - Spanish)​​

(Turning Three FAQ - Spanish)